Create your own BESPOKE
Begin your BESPOKE experience by designing a set of fridges that's uniquely you.
Choose the most suitable interior, the product type you want and select colors and materials to match your taste.
Designed for you, by you
PRODUCT & BENEFITS
Introducing new design that can be customized only for you
Create the refrigerator you've always wanted and enjoy more flexible style and space with Samsung Bespoke refrigerators. It has a modular and customizable design with a choice of stylish materials and colors to suit your kitchen.
Flexibly combine & configure refrigerators
Customize and combine refrigerators to suit your lifestyle. Samsung Bespoke allows you to pick product types, colors and materials that matches your unique tastes and needs. You can start with a single unit and always add a new Bespoke module rather than replace the one you already own, effectively extending the lifecycle of the appliance.
Designed for you, by you
Bring your personal style to the kitchen — and beyond. Choose the combination that's right for you, and look to evolve it as and when needed.
Meet our newest Bespoke
Either you can create your own, or select from finished product made just for you.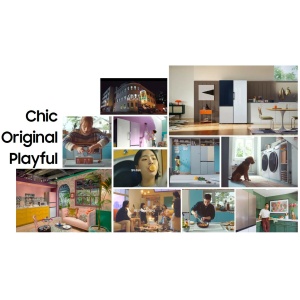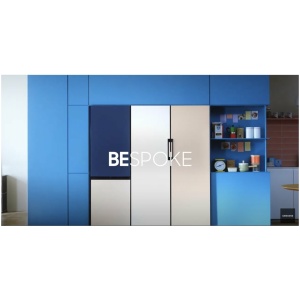 Specifications
Net Total (Liter)
323 ℓ
Net Width (mm)
595 mm
Net Weight (kg)
87.5 kg
Cooling Feature
All-Around Cooling
Specifications Detail
Capacity
Net Total (Liter)
323 ℓ
Gross Total (Liter)
330 ℓ
Physical specification
Net Dimension (WxHxD)(mm)
595*1853*688 mm
Net Width (mm)
595 mm
Net Case Height with Hinge (mm)
1853 mm
Net Depth with Door Handle (mm)
688 mm
Net Depth without Door Handle (mm)
647 mm
Packing Dimension (WxHxD)(mm)
646*1950*760 mm
Packing Width (mm)
646 mm
Packing Height (mm)
1950 mm
Packing Depth (mm)
760 mm
Net Weight (kg)
87.5 kg
Packing Weight (kg)
92.5 kg
20/40/40H (Container)
24/54/54
Cooling Feature
Cooling Type
All-Around Cooling
No Frost
Yes
Multi Flow
Yes
Freezer Feature
Fridge/Freezer Convertible
Yes
Convertible Mode
Fridge/Freezer
Temperature Range
Fridge 1 ~ 7 ℃ / Freezer -23 ~ -15 ℃
Shelf Material
Tempered Glass + White trim
Number of Shelf (Total)
3 EA
Flip Cover
Yes
Number of Drawer
4 EA
Number of Drawer (Vegetable & Fruit)
4 EA
Icemaker
Slim Ice Maker
Number of Door Pocket
2 EA
Interior LED Light
Top LED
Power Freeze Function
Yes
General Feature
Door Reversible
Yes
Door Alarm
Yes
Refrigerant
R-600a
Compressor
Digital Inverter Compressor
Exterior Feature
Display Type
Internal
Door Handle
Slim Easy Bar
Color
Panel Ready
Door Type
BESPOKE
Installation
Counter Depth
Yes